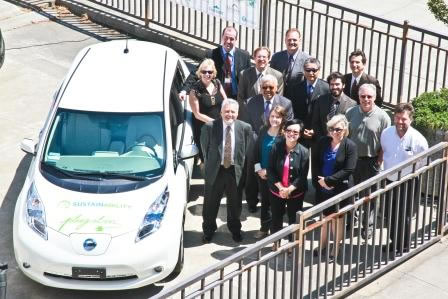 Project partners stand by newly acquired electric vehicles.
Electric Vehicle Programs
Electric vehicles have a number of advantages over gasoline-powered vehicles—chief among these is reducing air pollution and greenhouse gases. The development of electric vehicle infrastructure and vehicles also helps create green jobs. The County has had electric vehicles in its fleet for years and is now expanding our use of electric vehicles and helping to create a network of charging stations in the Bay Area.
Local Government Electric Vehicle Fleet Project
The Local Government Electric Vehicle Fleet Project is a high impact initiative to showcase electric vehicles in multiple government fleets, create substantial direct emission reductions, and serve as a model to scale this clean energy solution nationwide. Project partners are working to purchase and install 90 all electric vehicles and 90 charging points throughout the Bay Area. This clean transportation infrastructure will reduce carbon dioxide emissions by more than 400,000 pounds per year and also significantly reduce air pollution. The project is generously supported by a $2.8 million grant from the Metropolitan Transportation Commission and is a partnership between Alameda County, Sonoma County, Sonoma Water District, Transportation Authority of Marin, City of San Francisco, City of San Jose, City of Fremont, City of Concord, City of Oakland, City of Santa Rosa, and the Bay Area Climate Collaborative.
Through collaborative purchasing, the partner agencies saved over $349,000 (from MSRP) in the purchase of 90 new all-electric vehicles.
More information:
Smart Charging - Saving Money & Reducing Energy Demand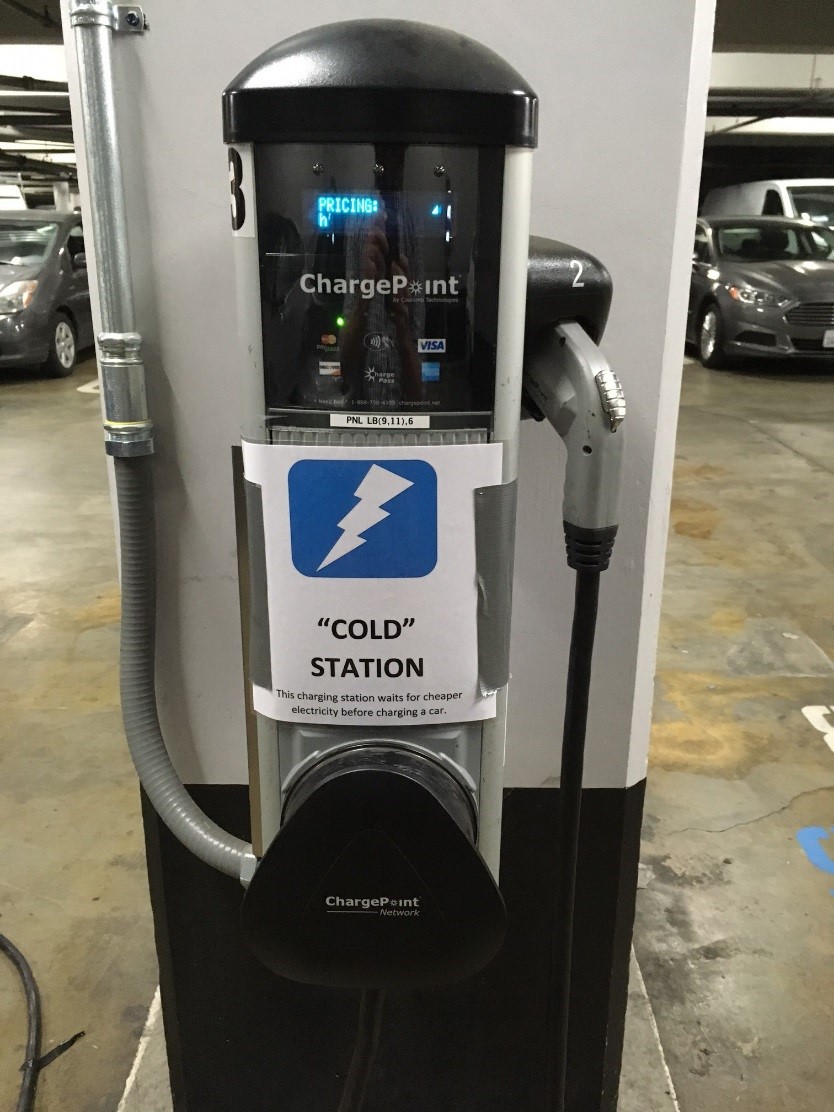 Electric vehicles can contribute to high demand on the electrical grid when many are charging at the same time. During periods of high demand, electrical utilities turn to less efficient power plants for additional power, causing more pollution. Alameda County is working to increase the use of electric vehicles while also minimizing impact on the grid.
With local partners ChargePoint, Kisensum, and Lawrence Berkeley National Lab, we pilot-tested smart charging software for electric vehicles. The software programs enable charging stations to charge when the electric grid is experiencing less demand and electricity costs less. Some charging stations also communicate with each other to ramp down when electrical demand peaks. This project reduced utility bills, allowing us to reinvest in fleet electrification.
In addition, we have converted selected charging stations to Level I stations that have a lower flow of power, in order to spread charging over more hours.
These strategies are part of our larger energy management efforts, which are described in a guidebook for other fleets considering electric vehicles.
More information: