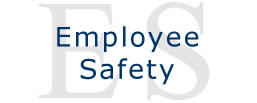 More about us...
Employee Safety is a top priority at the County of Alameda. We recognize that on-the-job accidents cause unnecessary human suffering, productivity loss, and in some cases, financial loss to employees, their families, and the County.
Performing your job safely is the most important thing you can do for yourself and for those who work around you.
The Risk Management Unit provides occupational health and safety services to all County agencies and departments. Some services are mandated by the California Occupational and Safety Health Administration (Cal OSHA) or the Federal Occupational and Safety Health Administration (OSHA), or other regulatory agencies, including the Department of Transportation. Occupational safety and health services include preventive ergonomic evaluations, Cal OSHA and OSHA mandated reports, periodic safety inspections of County facilities, online and classroom safety training programs, consulting to County departments, and participation in the Countyís Workplace Violence Prevention Program.
The County relies extensively on a network of departmental Safety Coordinators to promote safe work practices and to ensure that departmental training needs are met. In addition, the ACSO Office of Emergency Services coordinates an annual training exercise to ensure the County remains prepared to respond to natural disasters, such as earthquakes, that could otherwise disrupt the delivery of County services.