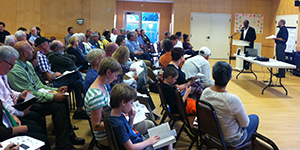 News & Announcements
12/15/2017

Alameda County Community Food Bank Mobile Market

(344KB)

Ashland Mobile Market?free food and a lot of it?is next Tuesday, 12/19 from 2-4pm. This is a fantastic opportunity that Eden Housing has arranged. Make sure you stop by

10/19/2017

ACSO Winter 2017 Citizens Academy

(59KB)

Get an inside look at the Alameda County Sheriff's Office through presentations given by the specialized units, take tours of facilities, and learn about your local law enforcement. They will be from October 25, 2017 to February 7, 2018.

07/24/2017

Alameda County Citizen's Academy 2017

(138KB)

The 2017 Citizen?s Academy is starting! This annual six-week civic engagement Academy is a free opportunity for you to learn about the County's mission and goals. See flyer memo for more info.
Upcoming Meetings & Events
The Eden Area Livability Initiative is an integrated partnership between the community, the county and other public sector jurisdictions that have a stake in the unincorporated urban communities of Alameda County. The Livability Initiative is the strategic development of a shared vision that plans to build pride for the unincorporated urban communities of Alameda County.
Mission
To create, strengthen, and sustain a livable community in the western unincorporated areas of Alameda County
Goals
To encourage planning and action across disciplines and interest areas
To engage the community in a significant way
To call for County Agencies to collaborate in new ways
To build stronger partnerships between the County, other jurisdictions and the community
Objectives
To increase community participation in decisions that affects the community
To find a shared community vision
To ensure coordination and implementation of this vision and plan between government and the community
To strengthen relationships between government and the community