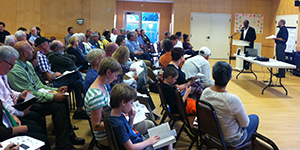 News & Announcements
07/24/2017

Alameda County Citizen's Academy 2017

(138KB)

The 2017 Citizen?s Academy is starting! This annual six-week civic engagement Academy is a free opportunity for you to learn about the County's mission and goals. See flyer memo for more info.

07/19/2017

Know Your Rights Workshops

(504KB)

There will be a series of workshops hosted by the City of Hayward,presented by Alameda County Immigration Legal and Education Partnership (ACILEP).Great opportunity to receive an update on the status of Hayward Sanctuary City policies & people's rights.

07/19/2017

Communities United to Remove Blight

(13610KB)

Stop by REACH Ashland Youth Center on July 22nd from 9am to 12pm and drop off bulky furniture and mattresses. On September 23rd from 9am to 12pm, come out and help clean up your neighborhood!Bring mattresses, furniture, & e-waste!
Upcoming Meetings & Events
The Eden Area Livability Initiative is an integrated partnership between the community, the county and other public sector jurisdictions that have a stake in the unincorporated urban communities of Alameda County. The Livability Initiative is the strategic development of a shared vision that plans to build pride for the unincorporated urban communities of Alameda County.
Mission
To create, strengthen, and sustain a livable community in the western unincorporated areas of Alameda County
Goals
To encourage planning and action across disciplines and interest areas
To engage the community in a significant way
To call for County Agencies to collaborate in new ways
To build stronger partnerships between the County, other jurisdictions and the community
Objectives
To increase community participation in decisions that affects the community
To find a shared community vision
To ensure coordination and implementation of this vision and plan between government and the community
To strengthen relationships between government and the community