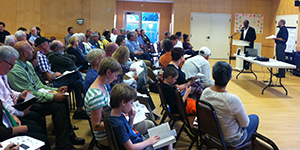 News & Announcements
12/22/2014

EALI Working Group Meeting #6 Schedule

(277KB)

The next set of Eden Area Livability Initiative (EALI) Phase II Working Group meetings will be held in February and March 2015.

12/15/2014

EALI Joint Leadership Committee Meeting

(650KB)

How are we making progress on the EALI Phase II Goals? Come find out at the Thursday, January 22, 2015 EALI Joint Leadership Committee meeting from 7 p.m. - 8:30 p.m. at Eden Church - 21455 Birch Street, Hayward.

10/01/2014

Alameda County Small Business Workshops

(173KB)

Interested in starting a small business? Attend these workshops to learn how to Start a Food Business, Start a Home-Based Business, Developing Successful Business Plan, Retailing 101, and more.
Upcoming Meetings & Events
The Eden Area Livability Initiative is an integrated partnership between the community, the county and other public sector jurisdictions that have a stake in the unincorporated urban communities of Alameda County. The Livability Initiative is the strategic development of a shared vision that plans to build pride for the unincorporated urban communities of Alameda County.
Mission
To create, strengthen, and sustain a livable community in the western unincorporated areas of Alameda County
Goals
To encourage planning and action across disciplines and interest areas
To engage the community in a significant way
To call for County Agencies to collaborate in new ways
To build stronger partnerships between the County, other jurisdictions and the community
Objectives
To increase community participation in decisions that affects the community
To find a shared community vision
To ensure coordination and implementation of this vision and plan between government and the community
To strengthen relationships between government and the community