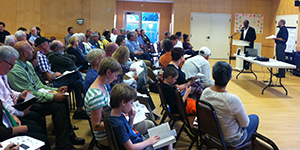 News & Announcements
09/25/2015

Eden Area Ag Day Mixer - Thursday, October 8, 2015

(760KB)

Drawing inspiration from the annual Livermore Ag Day, the Eden Area will play host to the local Ag Day event in October 2016. Join the Eden Area Ag Day Planning Team for a Mixer to learn more about how you can participate in this event.

09/25/2015

Food Day - Saturday, October 24, 2015

(6252KB)

Join us for a picnic with local, real food at the historic Meek Estate in Hayward in celebration of Food Day, an annual event that brings communities together to inspire us to make changes in our diets and take action to solve food-related problems.

08/13/2015

Schedule of EALI Working Group Meetings #9

(143KB)

The next meetings of the Eden Area Livability Initiative Phase II Working Groups will be held in September and October. Help make EALI II a success with your participating and feedback!
Upcoming Meetings & Events
The Eden Area Livability Initiative is an integrated partnership between the community, the county and other public sector jurisdictions that have a stake in the unincorporated urban communities of Alameda County. The Livability Initiative is the strategic development of a shared vision that plans to build pride for the unincorporated urban communities of Alameda County.
Mission
To create, strengthen, and sustain a livable community in the western unincorporated areas of Alameda County
Goals
To encourage planning and action across disciplines and interest areas
To engage the community in a significant way
To call for County Agencies to collaborate in new ways
To build stronger partnerships between the County, other jurisdictions and the community
Objectives
To increase community participation in decisions that affects the community
To find a shared community vision
To ensure coordination and implementation of this vision and plan between government and the community
To strengthen relationships between government and the community