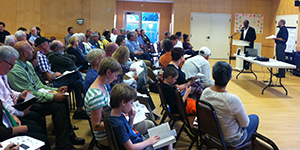 News & Announcements
06/13/2017

Community meeting on immigrant and refugee rights

(1427KB)

Supervisor Miley will be hosting an Immigrant and Refugee Community Meeting on June 14th at REACH Ashland Youth Center from 7-9pm. The purpose of this meeting is to inform the immigrant and refugee community of their legal rights and allow participants t

06/13/2017

Mobile Market

(352KB)

Ashland Village Apartments will have the Alameda County Mobile Market this summer! During July and August there also be a representative that can assist with CalFresh applications or answer any questions you may have.

06/13/2017

Eden Night Live

(3386KB)

Stop by at Eden Night Live's new location!There will be outdoor activities, community vendors, locally sourced foods, live music and entertainment. Admission is FREE!
Upcoming Meetings & Events
The Eden Area Livability Initiative is an integrated partnership between the community, the county and other public sector jurisdictions that have a stake in the unincorporated urban communities of Alameda County. The Livability Initiative is the strategic development of a shared vision that plans to build pride for the unincorporated urban communities of Alameda County.
Mission
To create, strengthen, and sustain a livable community in the western unincorporated areas of Alameda County
Goals
To encourage planning and action across disciplines and interest areas
To engage the community in a significant way
To call for County Agencies to collaborate in new ways
To build stronger partnerships between the County, other jurisdictions and the community
Objectives
To increase community participation in decisions that affects the community
To find a shared community vision
To ensure coordination and implementation of this vision and plan between government and the community
To strengthen relationships between government and the community