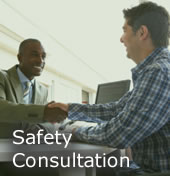 Safety Consultation
Safety Inspections
Periodic site safety inspections are not only required, but they help to ensure that new safety hazards are identified and that previously identified hazards were properly addressed. Site safety inspections are a key component of an effective safety program.
Agency/Department Safety Coordinators
Agency/Department Safety Coordinators provide Risk Management with a safety link to County Agencies and Departments. To learn more about the role of the Agency/Department Safety Coordinator and/or identify yours, please contact Laura Kitsch, Safety Manager, at laura.kitsch@acgov.org or 510-272-6698, or the Risk Management at 510-272-6920.
* Portable Document Format (PDF) file requires the free Adobe Reader.
** To view Microsoft Office Word, Excel, or PowerPoint documents, you can download a free trial version of Office 365. Per Microsoft, you will be able to continue viewing files even after the trial has expired.