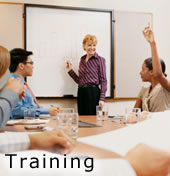 Safety Video Library
The videos in the Risk Management safety library are available to County Departments for training or to use as a reinforcement tool for safety procedures and practices.
Please contact Alma Balmes, Risk Analyst / Safety Program Manager at 510-272-6698 or tie-line 2-6698, to borrow them. We ask that you return the videos within two weeks so they will be available to other users.
Topics include back safety and proper lifting techniques, biological threats, driver training, drug-free workplaces, emergency preparedness, ergonomics, good housekeeping, hazardous materials communications, infection control, safety awareness, safety equipment, and workplace violence prevention.
* Portable Document Format (PDF) file requires the free Adobe Reader.