1106 Madison Street, Suite 233Oakland, CA 94607Telephone: 510.272.3895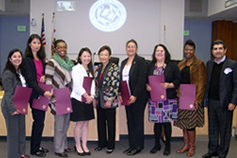 2013 GRADUATES OF THE DIVERSITY COORDINATOR TRAINING INSTITUTE (DCTI)
Diversity as a concept focuses on human qualities that are different from our own and those of groups to which we belong; but that are manifested in other individuals and groups. Diversity encompasses both visible and invisible attributes that define an individual's personal diversity hence, when we recognize, value and embrace diversity, we are recognizing, valuing and embracing the uniqueness of each individual.
Mission
The mission of the Diversity Programs is to contribute to the goals of Alameda County, help drive business results and encourage employee engagement by working collaboratively with each County agency and department: to effectively manage and value the diversity of its employees; to promote a harassment-free workplace; to ensure inclusion of all people; to minimize the human and financial costs associated with protracted and adversarial processes; and, to help provide human-centered services.
Vision
Diversity Programs will help develop and promote a humane environment where every employee and citizen is able to contribute to building an inclusive community and every person is respected, valued and appreciated.
Values
Service is built on commitment, responsibility, and accountability.
Excellence in performance requires purpose, integrity, courage and a willingness to take risks.
Effective management is genuine, professional, efficient, fiscally and morally responsible.
People should be treated humanely with respect, dignity and fairness.
Diversity is a positive, critical and essential ingredient of a successful and inclusive work environment.
Opportunity for its workforce is fostered by affirmative action and based on merit.
Common good is achieved by open communication, team work and the involvement of diverse community voices.
Independence for all is developed by programs and services which foster self-sufficiency.
Integrity, honesty and respect foster mutual trust.
Every employee, every citizen can make a valuable contribution to the community.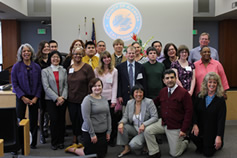 2009-2010 PROJECT SEARCH INTERNSHIP PROGRAM, FIRST GRADUATING CLASS