Fighting Hunger...One Can at a Time
In it's fifth year, a record 16 County departments participated in Alameda County's 2017 Stone Soup Holiday Food Drive and Design Competition. County employees donated more than 10 tons of food and $11,000 in cash to help put meals on the tables of less fortunate residents during the holiday season.
Employees also used donated food items to fashion creative displays that adorned public areas of many County buildings. The displays are designed to engage visitors about the issue of hunger in the community. The creations were then dismantled and their edible components donated to the Food Bank to help provide nutritious holiday meals to residents struggling to put food on the table.
"Once again, our Alameda County employees have shown through generosity that they are truly committed to public service and making our community a better place," said Susan S. Muranishi, Alameda County Administrator. "When we mobilize our 9,600 employees, we really can make a difference."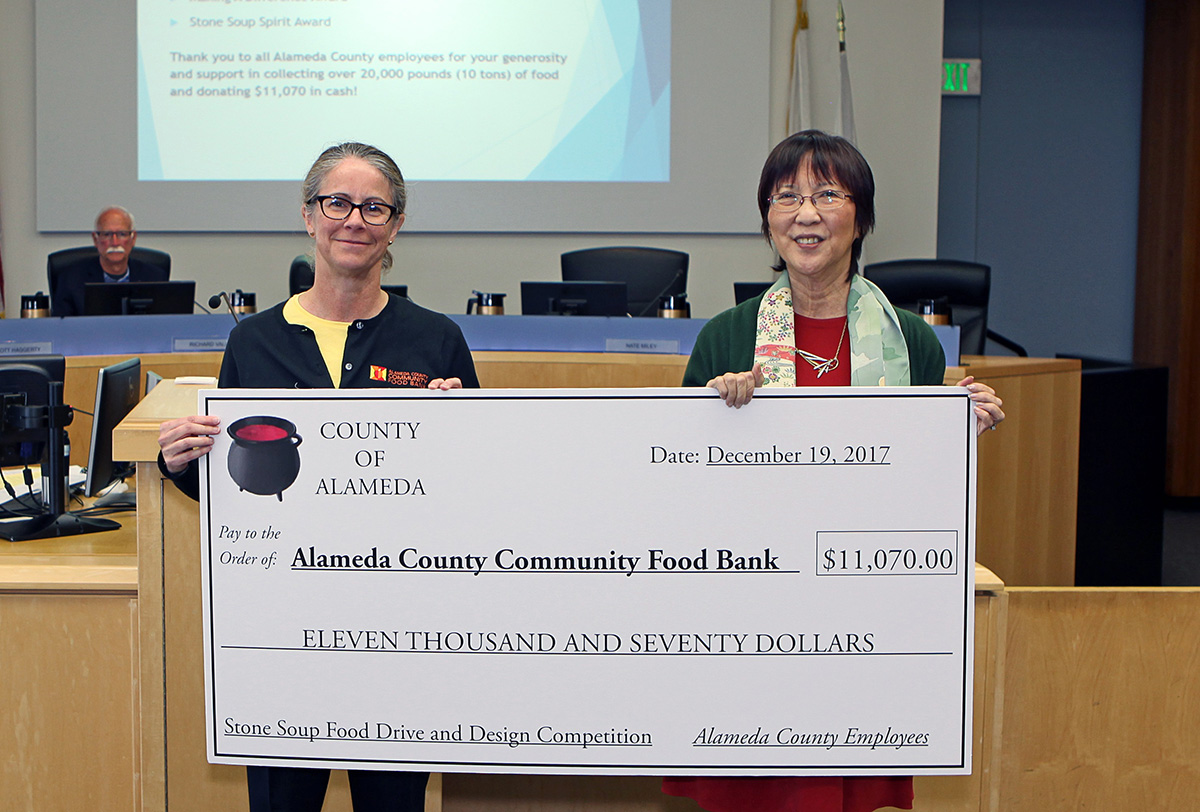 The Fifth Annual Stone Soup Food Drive and Design Competition culminated with an awards ceremony led by the Alameda County Board of Supervisors, which expressed its appreciation to each of the 16 County departments that participated in this year's Stone Soup Food Drive.
A panel of judges chose the Stone Soup Awards based on creativity, inspiring themes, incorporation of food donations into their designs, as well as the most money and food raised. This year's winners were:
Best Recipe Awards: County Administrator's Office and Registrar of Voters Office
Chef's Awards: Board of Supervisor's and Public Works Agency
Most Creative Awards: District Attorney's Office, Probation, and Information Technology Department
Most Inspiring Awards: Community Development Agency, General Services Agency, and Human Resource Services
Making a Difference Awards: Assessor's Office, Auditor-Controller Agency, and Child Support Services
Stone Soup Spirit Award: County Library, Health Care Services Agency, and Social Services Agency
The Alameda County Community Food Bank will gladly accept donations through the holidays and beyond to help the less fortunate in our community. For every $1 donated, $6 worth of food is provided to those in need.
To donate, go to http://www.accfb.org/