Fighting Hunger...One Can at a Time
The Alameda County Board of Supervisors adopted Vision 2026 to set the course for the next decade that anticipates community challenges and maximizes our ability to meet residents' needs in a rapidly changing world. One of Vision 2026's 10x goals is eliminating poverty and hunger. In this spirit, Alameda County continued their partnership with the Alameda County Community Food Bank on the Stone Soup competition.
Alameda county employees set new standards for generosity and community spirit in 2019 through the 6th Countywide Stone Stoup Food Drive and Design Competition. This innovative effort supported the Alameda County Community Food Bank in its fight to end hunger and provide relief to those struggling with food insecurity. This year, employees from a record 19 County departments donated more than $13,000 in cash and more than 16,000 pounds of food to provide meals to local residents. Employees also teamed up to incorporate their donations into eye-catching displays centered on the theme of hunger – to raise public awareness and to inspire a spirit of compassion.
Stone Soup 2019 is the latest remarkable effort by our Alameda County employees to support our residents – and to help us reach our Vision 2026 10x Goal of Eliminating Poverty and Hunger in the community.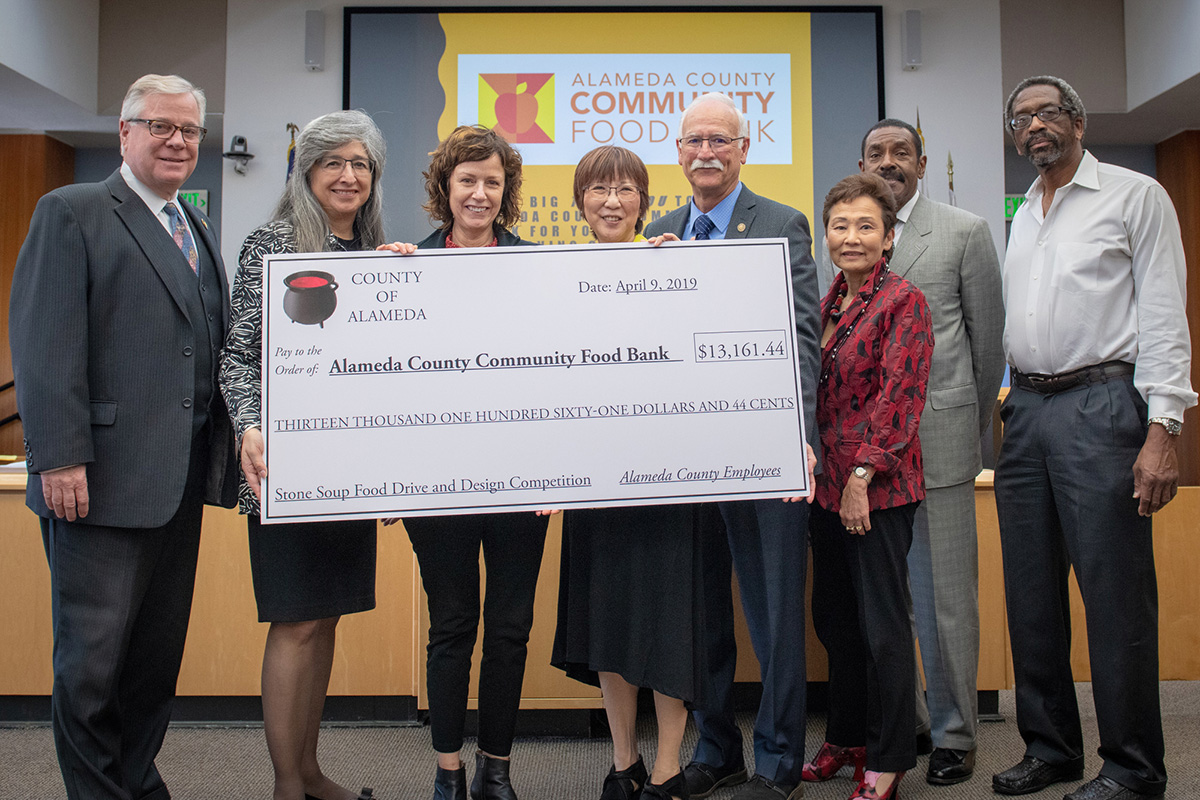 A panel of judges chose the Stone Soup Awards based on creativity, inspiring themes, incorporation of food donations into their designs, as well as the most money and food raised. This year's winners were:
Leadership Award: The Board of Supervisors
Best Recipe Award: County Administrator's Office and the Public Works Agency
Chef's Award: District Attorney's Office and Information Technology Department
Most Creative Award: Auditor-Controller Agency and Social Services Agency –HR/TACT All
Most Inspiring Award: Assessor's Office, Community Development Agency and Department of Child Support Services
Making a Difference Award: Health Care Services Agency, Probation and Social Services Agency – WBA
Stone Soup Spirit Award: Alameda County Library, General Services Agency and Human Resources Department
Also to be acknowledged are the awesome Partners who, while they did not build a display, contributed food and/or monies to the drive. Partners: Alameda County Employees' Retirement Association, County Counsel, Public Defender, Registrar of Voters and Sherriff's Office.
The Alameda County Community Food Bank will gladly accept donations through the holidays and beyond to help the less fortunate in our community. For every $1 donated, $7 worth of food is provided to those in need.
To donate, go to http://www.accfb.org/