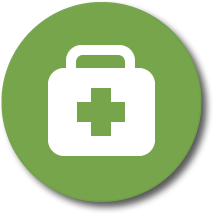 Make a Kit
Overview
The emergency supply kit is the center of all emergency preparedness plans. Follow these guidelines to make kits for your home, workplace, and car. Afterwards, check the Be Informed section for additional supplies you should consider for specific disasters.
The Alameda County Sheriff's Office provides a checklist of supplies in a printer-friendly format:
The Alameda County Public Health Department also provides an emergency plan in a printer-friendly format:
NOTE: The checklists below use cookies** to save your selections so that you can track which items you have prepared.
The emergency supply kit for your home is the most important of the kits and should be designed to last at least seven days. It should include:
Store the water in soft plastic containers or bottles that cannot break
Replace the water every six months
Keep this supply kit with you at your office or wherever you work. It should last at least three days.
This is your portable emergency pack for when things go wrong on the road. Make sure it can last at least three days.
Don't forget your pet when planning for disaster. Here is a list of recommended items to pack.