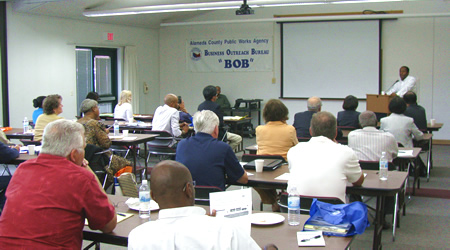 Certification
EBIA Common Application
The East Bay Interagency Alliance (EBIA) partner agencies have established a collaborative Common Application for Certification designed to streamline the certification process for local businesses working in Alameda County. The Common Application is a sharing of information between agencies and NOT a reciprocal certification.
The agencies of the Certification Task Force hope that the Common Application will further facilitate contracting with our agencies and assist businesses in using our programs when vying for contracts. We have developed this process in response to requests that we make the certification process among our agencies more efficient and in acknowledgement of the past frustrations expressed by our business community. We encourage all our small and local businesses to participate more fully in the opportunities available to them through our agencies. Our agencies continually seek to increase competition in the bidding process, procure better contracts with lower costs, and play a prominent role in the development of our local economy by increasing capacity in our local, small and diverse businesses.
The Common Application for Certification, along with the required Supplement, may be submitted for certification with any of the agencies listed. If any additional information is required, your firm will be contacted by the agencies you have chosen.
On behalf of the EBIA and its member agencies, we want to encourage your participation.
For questions regarding the common application, please contact any of the following agencies:
* Portable Document Format (PDF) file requires the free Adobe Reader.