Reporting an Industrial Injury
IF CASE OF MEDICAL EMERGENCY, CALL 9-1-1.
If necessary, go directly to the emergency room
A nurse-staffed injury hotline is available to assist you to report industrial injuries and initiate the filing of a workers' compensation claim. The employee will still need to complete (and sign) a DWC-1 and return it to the supervisor, for scanning and e-mailing to the TPA.
A link to the nearly completed Form 5020 will be generated from the telephonic report, and be sent to the departmental workers' compensation liaison or disability program case manager for review, completion of additional fields, and will be submitted electronically to the TPA.
We encourage all departments to use this new, sustainable process.
In cases where it is not possible to report the injury through the hotline, forms may still be completed by hand and faxed to the TPA at 1-866-548-2637 or scanned and email to 7013CountyofAlameda@sedgwick.com.
IF NOT A MEDICAL EMERGENCY, EMPLOYEE SHOULD CONTACT SUPERVISOR IMMEDIATELY AND
FOLLOW THE PROCESS BELOW.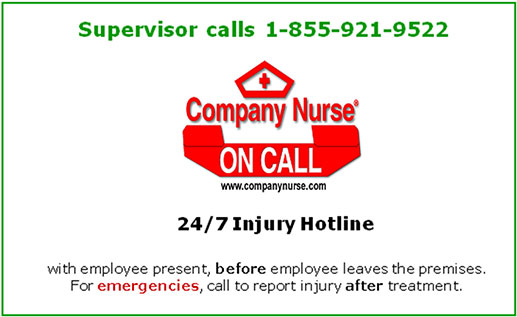 Supervisor (with injured employee) immediately calls Company Nurse BEFORE injured employee seeks treatment.
Company Nurse gathers information over the phone and either recommends first aid or refers employee to appropriate medical treatment at a designated facility or pre-designated physician.
Company Nurse will alert medical facility that employee will be coming for treatment.
If medical treatment is beyond first aid, supervisor gives employee the DWC-1. Employee completes employee sections of the form and returns it to the supervisor. Supervisor completes employer sections and scans and e-mails to TPA.
Employee obtains appropriate medical care promptly at the designated facility or pre-designated physician as set forth in Labor Code section 4600(d) (1)-(d) (2).
Injured employees who initially receive only first aid treatment may call Company Nurse again if they need a referral or symptoms worsen. Company Nurse is NOT a substitute for medical treatment.
More Information on how the Company Nurse Injury Hotline works.
Forms you may need:
* Portable Document Format (PDF) file requires the free Adobe Reader.
** To view Microsoft Office Word, Excel, or PowerPoint documents, you can download a free trial version of Office 365. Per Microsoft, you will be able to continue viewing files even after the trial has expired.