Public Health workshop participants brainstorm how to effectively communicate to clients during poor air quality events.
Planning workshop participants use different colored sticky notes to vote on their favorite ideas for reducing urban heat island effect.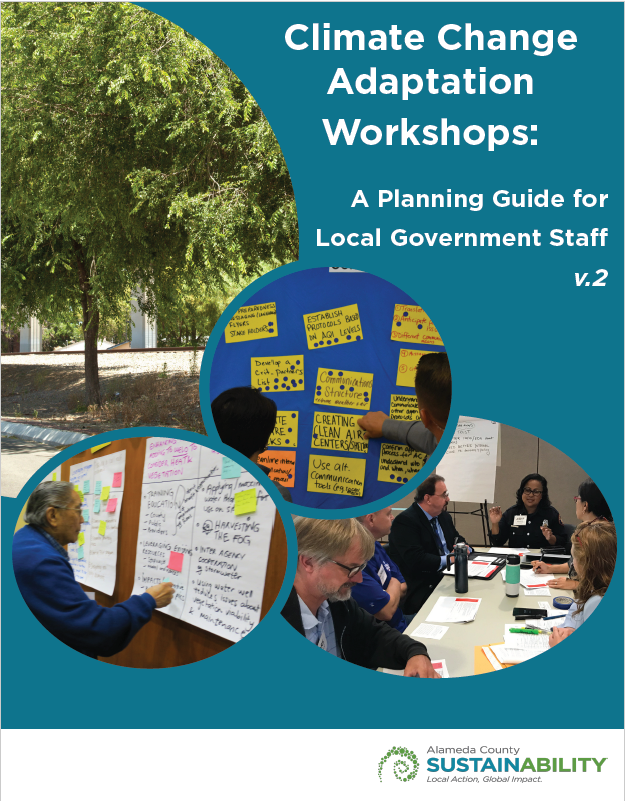 Download the Guide
Workshop Model
Staff Workshops
To jumpstart climate adaptation work, several agencies, including Planning , Fire, Public Health, and Emergency Services have held staff workshops on specific climate impacts affecting their programs. This approach has allowed them to engage staff to ensure that proposed responses are feasible, actionable, and effective. This has resulted in a tree planting program in heat-vulnerable communities in the County, and a multilingual flyer on how to protect yourself during from wildfire smoke.
In one project, seven County agencies and regional partners came together in a workshop to give input on a communications protocol for responding to wildfire smoke conditions.
Resources for Local Government Adaptation Champions
The County has developed a guide for other local governments who would like to try this model: Climate Change Adaptation Workshops: A Planning Guide for Local Government Staff.
Sample workshop materials are also provided below as resources for others planning a workshop.
Guidebook

Example Project

Agendas

Presentations

Breakout Group Materials

Materials Checklist

Evaluation