Testimonials
Climate Corps Bay Area Members and volunteers constructed kid-friendly garden beds for Headstart preschools in Oakland.
Climate Corps Fellows
(Until 2013, all Climate Corps participants served as AmeriCorps Members. In 2016, the program changed from Climate Corps Bay Area to Climate Corps.)
Melissa Brownlie, Climate Corps Fellow 2020
"My fellowship provided valuable experience in preparing and building climate resiliency in local government. I worked on projects from climate strategy to RFP development to virtual meeting best practices. Through Bay Area climate and equity networks, I expanded my network and practiced applying equity tools to climate action. The Office of Sustainability team is supportive, knowledgeable, and sets fellows up to succeed. I developed my research, analysis, facilitation, and collaboration skills, which has placed me in a great position to pursue an equitable climate action career."
Neena Mohan, Climate Corps Fellow 2019-20
"My fellowship at Alameda County gave me an in-depth look at how climate action takes place in local government. I even had the opportunity to engage with regional collaborative efforts around issues of climate adaptation and resiliency. In my role, I was able to build on my research and analysis skills through working on a climate vulnerability assessment for the county. My team was also incredibly supportive and was looking to grow together, which allowed me to contribute to critical dialogue and efforts around climate equity and justice. I'm sure that all of the new content knowledge, awareness of government functions, and communications skills I've gained in this program will serve me well in my next position doing state climate policy advocacy in service of environmental justice communities."
Lexi Oliva, Climate Corps Fellow 2019-20
"My fellowship experience gave me meaningful insight as to how local governments move climate initiatives forward and support their communities in the process. I was able to advance my skills in project management, public speaking, coordinated outreach, and policy analysis, preparing me for future environmental advocacy work."
Kamya Sud, Climate Corps Fellow 2019-20
"My fellowship exposed me to the multifaceted nature of public service while immersing me in the emerging field of climate adaptation and resilience. My projects allowed me to gain valuable experience in quantitative and qualitative climate research, community outreach, project management, and facilitation. Throughout the year, I was supported and encouraged in my professional development. The team made me feel like a valued member, even while we were working remotely during COVID-19 shelter-in-place."
Savannah Whaley, Climate Corps Fellow 2018-19
"My time at the County was incredibly enlightening. I learned about nuances of climate adaptation strategy and project management/implementation, along with many other skills that have served me well and that helped me land my next job. The experience of working at the local government level was invaluable and would have been very hard to come by otherwise. My co-workers were - and remain - great resources."
Sam Hill-Cristol, Climate Corps Fellow 2017-18
"My fellowship at Alameda County exposed me to cutting-edge projects in the electric vehicle space! My supervisor gave me many opportunities to work on exciting challenges in fleet electrification. The skills and the network I built have jumpstarted my clean energy career."
Kevin Horng, Climate Corps Fellow 2017-18
"My fellowship gave me valuable experience in project management and the field of behavior change. To truly combat climate change, a fundamental shift in culture and caring is necessary. This experience allowed me to utilize data and research-backed methods of implementing programs to bring us closer to that reality."
Pallavi Sherikar, Climate Corps Fellow 2017-18
"I decided to serve as a fellow because I wanted to learn how local governments are preparing for the impacts of climate change. Working at Alameda County gave me a broad perspective on adaptation efforts and challenges across a region. The County's varied terrain and socioeconomically diverse population adds complexity to determining how to respond to climate impacts. My fellowship experience gave me the chance to explore that complexity and has heavily influenced what I will study in graduate school."
Catherine Willett, Climate Corps Fellow 2017-18
"Through working on waste diversion, I was able to get to know a wide variety of County employees and learn what it's like working in a large organization. I also got the benefit of working directly with the sustainability team, which values collaboration. This atmosphere allowed everyone to contribute their ideas to colleagues and get valuable input on their own projects."
Natalie Calhoun, Climate Corps Fellow 2016-17
"My fellowship project allowed me to further develop the skills I needed for my next job: public speaking, data analytics, and project planning. Having the opportunity to work on multiple projects at once and manage my own time impressed an employer during an interview and led to a job offer."
Narayan Gopinathan, Climate Corps Fellow 2016-17
"My fellowship at Alameda County helped me smoothly transition from college into a career in sustainable energy and transportation. More than one potential employer has already been impressed with this experience."
Alisa Healy, Climate Corps Fellow 2016-17
"My Climate Corps fellowship with Alameda County was a rocket booster for my sustainability career. I feel qualified for so many more exciting jobs than I did before the fellowship. The professional development skills I've received are incredibly valuable, and I am grateful for the County's dedication to fostering my professional growth."
Alex Sabo, Climate Corps Fellow 2016-17
"I decided to participate in Climate Corps to get more experience working in the sustainability field as I start my career. What I found at Alameda County was not only an opportunity to build my project management skills, but also an amazing opportunity to grow professionally through the mentorship of my supervisor. The creative freedom and responsibility I was given to take on a project, own it, and see it through to the finish gave me a sense of accomplishment and the confidence to pursue my future career."
Liz Shenaut, Climate Corps Fellow 2016-17
"I applied to Climate Corps with hopes of being placed at Alameda County in order to gain experience with local government policy implementation. I have no doubt that the support of my supervisor, along with being able to show off my current position in local government sustainability, is why I was accepted to a dual degree graduate program in environmental policy. My supervisor and her colleagues taught me professional skills such as project planning that will help me approach my job search after graduate school with confidence."
Jessica Byron, Climate Corps Bay Area Fellow, 2015-2016
"My experience as a fellow at Alameda County was incomparable; the level of professionalism and support I received far exceeded my expectations. The Child Care staff and Sustainability team focused on developing us as strong leaders in a supportive and inclusive environment. I worked with nearly 900 teachers and students from 35 different Alameda County preschools to deliver zero waste programming through staff trainings, classroom lessons, site visits, and waste audits. I grew as an environmental educator from the opportunity to directly apply communication strategies and leadership skills gained from professional development workshops at the County and outside organizations. Without doubt, I will use the skills I learned here throughout the rest of my career."
Hana Creger, Climate Corps Bay Area Fellow, 2015-2016
"This opportunity has helped me to grow more professionally than I ever could have imagined. I planned and implemented engagement campaigns to encourage County employees to switch to a clean commute like carpooling or taking BART. County leaders' openness to innovative ideas and methods was instrumental in the success of our campaigns. I expanded my skills in project management, planning processes, and networking. I also feel much more confident in my ability to communicate about environmental issues. The sustainability managers are dedicated to the fellows' success and provided immense support and feedback."
Caitlin Murphy, Climate Corps Bay Area Fellow, 2015-2016
"The year that I spent working on behavior change campaigns and metrics with Alameda County Sustainability has been incredibly useful for my professional development. As a member of a small team, I contributed to the development and implementation of campaigns and felt like a valued team member. I learned data-based and social science-based methods of engaging diverse populations on environmental issues - and always felt supported in my role when I wanted to branch out and try something new."
Nicole Gaetjens, Climate Corps Bay Area Fellow, 2014-2015
"During my one-year fellowship focused on greening County-operated buildings, I learned a skill that will be valuable in any future position: how to engage a diversity of stakeholders and incorporate their feedback into a project. I also gained an excellent understanding of how local government functions. In addition to my supervisor, other Alameda County Sustainability program staff also acted as mentors and provided invaluable resources to support my professional growth and next career steps."
Debra Halligan, Climate Corps Bay Area Fellow, 2014-2015
"I immensely enjoyed my experience as a one-year fellow focusing on sustainability dashboard and green events projects. My contributions were welcomed and appreciated, and I had many opportunities to learn how to navigate effectively within a large local government. Working with the small but dedicated Sustainability team was rewarding because of the staff's openness to new ideas. Team members would take time to answer my questions and encouraged me to participate in unique professional development activities like hackathons. Above all, I appreciated having a fellow cohort in GSA because it created opportunities to collaborate and quickly built my professional network in the Bay Area."
Matthew Petrofsky, Climate Corps Bay Area Fellow, 2014-2015
"The Sustainability Program was a great place to work. Implementing and promoting compost and recycling programs has been rewarding, as it felt great making a tangible difference through a forward-thinking government program. I improved my project management, outreach, and presentation skills. The staff balanced supportive teaching and letting me run my own projects. Getting to work with a team of people who focus on a diverse range of issues has broadened my knowledge of the sustainability field as a whole."
Natalie Lessa, Climate Corps Bay Area Fellow, 2014-2015
"My fellowship at Alameda County has provided me with valuable professional skills in a supportive environment. The Child Care staff made sure I got exactly what I wanted out of the fellowship: public speaking experience, waste management knowledge, and understanding of office protocol. I was able to work directly with more than 1,000 teachers and students to implement reduce, reuse, recycle and rot principles in the classroom. I always felt like my work was valued, with long-term environmental and educational benefits for the community. My supervisors gave me freedom to take ownership of my projects while also setting high expectations. The Sustainability team was very responsive to suggestions for professional development and very helpful in preparing me for the next career step."
Sam Bliss, Climate Corps Bay Area Fellow, 2013-2014
"I have thoroughly enjoyed and tangibly benefitted from my fellowship at Alameda County. Typical intern work is highly supervised and not always meaningful. In contrast, my position at the County struck a balance between strong guidance and the ability to take ownership, which allowed me to make mistakes and learn from them. The opportunity to research and design my own project to analyze the life-cycle impacts of purchasing ensured I expanded my skills while doing meaningful work. It has been the perfect stepping stone toward my longer-term goals."
Kimberly Hazard, Climate Corps Bay Area Fellow, 2013-2014
"My fellowship year - focused on engaging the child care community in recycling, composting, and sustainability best practices - has been invaluable to my professional development. The staff have been incredibly supportive while also allowing me enough independence to deepen my project management skills. I've been able to put my all into creating meaningful change. Alameda County's sustainability programs provide fertile soil for young leaders to grow."
Nicole Powell, Climate Corps Bay Area Member, 2012-2013
"During my service year with Alameda County's Sustainability program, I focused on employee engagement by recruiting grassroots leaders and piloting community based social marketing campaigns. Working with County staff in different agencies was an important experience because it helped me understand how to communicate about sustainability issues with people in a variety of roles. My professional skill set improved over the course of the year with practice in areas like public speaking and creating engaging outreach materials. The Sustainability staff was very supportive and provided useful feedback to improve the projects I worked on."
Thomas Fenster, Climate Corps Bay Area Member, 2012-2013
"Working with the Sustainability program has been an excellent experience. I implemented compost and recycling programs at County buildings and ran waste reduction campaigns. The work has greatly enhanced my project management skill set and provided me the opportunity to explore and apply the principles of community based social marketing. I was given the freedom to independently run my projects and greatly expanded my knowledge of the field. It was a pleasure to work with such a group of dedicated and fun sustainability professionals."
Will Quinn, Climate Corps Bay Area Member, 2011-2012
"Alameda County gave me the freedom to pursue project interests such as reducing paper towel waste through a sustainability marketing campaign and guiding agency green teams with principles of community based social marketing, while providing a supportive structure. Through this process, I learned valuable marketing techniques, how to promote lasting behavioral change, the power of simple metrics, and the many steps involved in planning a successful project from start to finish. Working with a group of passionate and like-minded individuals such as the Sustainability team was a privilege. They drove me to explore new aspects of sustainability and spurred my growth by giving me independent responsibility over my projects. I will undoubtedly apply much of what I learned here through the rest of my career."
Jon G., Climate Corps Bay Area Member, 2010-2011
"As a Climate Corps Bay Area member for the 2010-2011 service year, I worked with Alameda County Sustainability to roll out compost and expanded recycling programs at County buildings. Through this effort, I built my skills in many useful areas, including graphic design, metrics development, and project planning. It was a privilege to work with such an innovative and positive group as the Sustainability team. This experience will have a lasting impact on my career."
Leigh B., Climate Corps Bay Area Member, 2010-2011
"During my one-year AmeriCorps volunteer position, I focused on the County's Clean Commute Program, which encourages employees to walk, bike, take transit, and/or carpool to, from, and at work. I conducted research projects to distill best practices for future program success and was integral in launching Zimride, a new benefit that will help employees find carpool partners and clean commute information. My professional skill set has been significantly heightened, from researching to creating outreach materials to public speaking. The Sustainable Transportation and Sustainability teams are inspiring groups of people, and their dedication to my professional development has made the experience an extremely positive one."
Lou Riordan, Climate Corps Bay Area Member, 2010-2011
"During my service year with the County's Sustainability program, I worked on the design and implementation of sustainability outreach programs for County employees. Projects included the design and analysis of a county-wide survey on sustainability, moderating focus groups of County employees, and performing research on best practices in sustainability outreach. Two of my favorite efforts were designing marketing materials for outreach and holding printer/copier trainings to promote paper use reduction. The other team members made my year incredibly rewarding, because they gave me the opportunity to take on new challenges while supporting my efforts with their considerable knowledge. With their help, I developed and refined my skills in public speaking, graphic design and program planning. The experience I received working so closely with an expert team like this will serve me very well in my future career endeavors."
Summer Interns
Summer 2019 interns Beverly Ge (left) and Colleen Narlock (right) helped Alameda County prepare for the health effects of climate change.
Beverly Ge, Harvard College (Summer 2019)
Recipient of the Mindich Service Fellowship through the Harvard Center for Public Interest Careers
"As someone without a background in local government or public service, I started the summer not knowing what to expect. Ten weeks later, I have a much clearer sense of how climate action can be driven forward by passionate individuals working at the county level. I felt that my work on several adaptation projects, ranging from a cross-agency smoke communications workshop to an online heat vulnerability map, was meaningful and eye-opening. I am grateful to have worked with such a dedicated, supportive team and am excited to bring lessons learned from this summer to my future endeavors!"
Colleen Narlock, Harvard Kennedy School (Summer 2019)
Recipient of Summer Internship Fund Award from Harvard Kennedy School of Government
"My internship at the Office of Sustainability was the perfect place to combine my interests in climate change resilience and public health policy. I was fortunate to be a part of the development of the Alameda County smoke communications protocol from the end of the planning stages through to the working group draft of the protocol itself."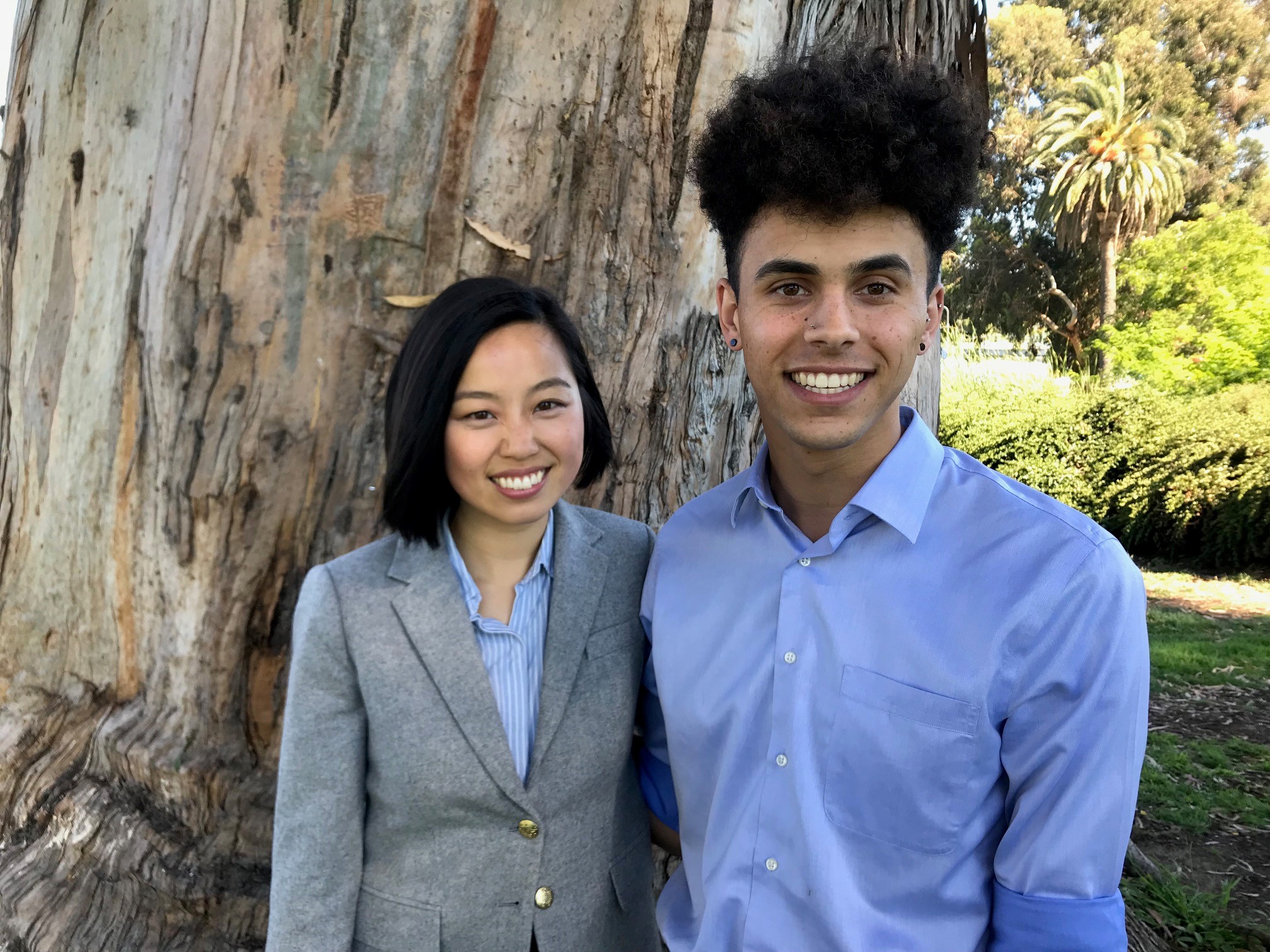 Summer 2018 interns Sydney Fang (left) and Elijah Ezeji-Okoye (right) focused on climate resilience planning.
Elijah Ezeji-Okoye, Harvard College (Summer 2018)
Recipient of the Mindich Service Fellowship through the Harvard Center for Public Interest Careers
"My summer at the Alameda County Office of Sustainability allowed me to better understand the role local government plays in environmental action, building on past experiences at environmental NGOs. This summer, I reviewed and analyzed the latest climate action plans from across North America in order to inform the county's goals of integrating resilience and equity into its next climate action plans. My project not only had a clear purpose but also gave me the opportunity to better my analytical and research skills - skills I will take with me. I will miss being immersed in a team so passionate about what they do."
Sydney Fang, Harvard Kennedy School and Harvard Graduate School of Design (Summer 2018)
Recipient of Summer Internship Fund Award from Harvard Kennedy School of Government
"Over the summer, I was able to contribute significantly to Alameda County's vision for climate adaptation and resilience. I both learned and shared change management and stakeholder coordination strategies to build a more resilient county and region. I also had the opportunity to attend - and apply - trainings in community engagement."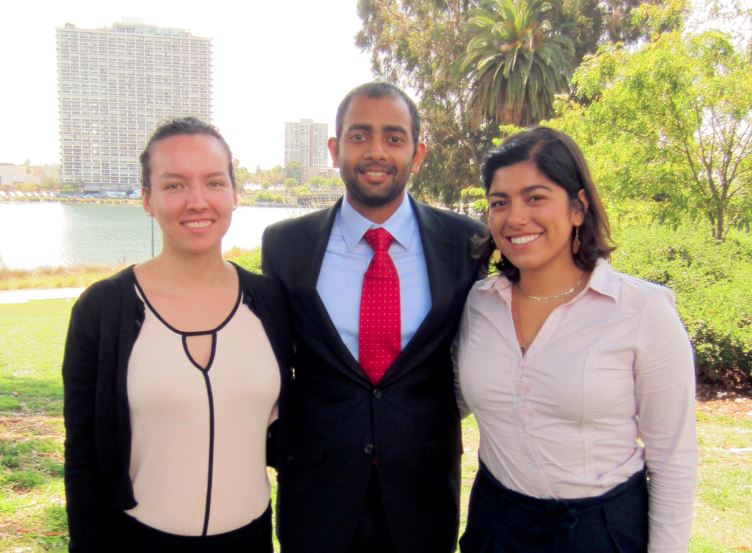 Summer 2017 interns Theodora Mautz (left), Akshay Anantharaman (center), and Krista De La Torre (right)
Akshay Anantharaman, Harvard Kennedy School (Summer 2017)
Recipient of Roy Family Summer Internship Funding from the Environment and Natural Resources Program at the Harvard Kennedy School of Government
"It was my first time working directly in the public sector and on sustainability issues in a professional context. I worked on mapping out and quantifying some potential impacts of temperature increase on public health, infrastructure, and agriculture in Alameda County. It became clear, early on, that this was a far more complicated issue than I'd initially realized. I learned a lot working through this and really appreciated the support I received from my colleagues at the Office of Sustainability and other departments. This was an interesting and valuable opportunity."
Theodora Mautz, Harvard College (Summer 2017)
Recipient of Mindich Summer Fellowship through the Harvard Center for Public Interest Careers
"I had a wonderful experience interning with the Alameda County Office of Sustainability and getting introduced to public service careers. I conducted an initial assessment of climate adaptation actions in the county agencies whose services will be most affected by climate change and presented my findings to senior leaders. My project felt relevant, ground-breaking, and important for county residents, which made me feel personally invested. I will miss the passionate team, who continually impressed me."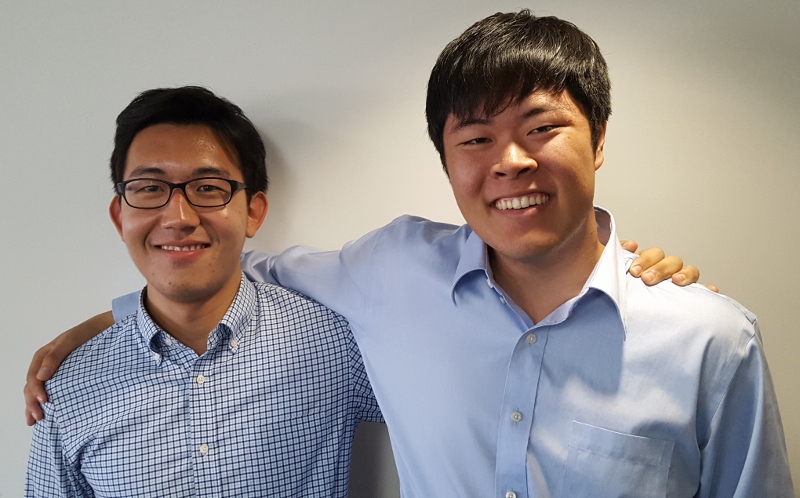 Summer 2016 interns Jonathan Lee (left) and Ryan Sim (right)
Jonathan Lee, Pomona College (Summer 2016)
Recipient of Pomona College Summer Experience Funding Award
"My internship was an amazing experience. The Sustainability Program staff were always willing to discuss issues relating to their work and share career advice. I appreciated the array of opportunities to gain new views of county government - from participating in strategy brainstorms around challenging issues to quantifying operational greenhouse gas emissions. I not only learned but also contributed in meaningful ways. A highlight was presenting key findings from my work at an executive meeting. This summer, I was able to see for myself what it takes to implement policies on the ground, something that I couldn't understand fully in a classroom."
Ryan Sim, Harvard College (Summer 2016)
Recipient of Mindich Summer Fellowship through the Harvard Center for Public Interest Careers
"The summer I spent with Alameda County was immensely helpful for my professional growth. As a member of a tight-knit team, I contributed to several climate action projects, researching best practices and analyzing stakeholder feedback. Through my work on the design of these projects, I gained a firmer grasp of the connections among environmental policy, advocacy, and behavior change. I felt supported by my supervisor to challenge myself by taking on unfamiliar tasks, and I am confident my new skills will benefit me in the future."
Laura Edwards, Pomona College (Summer 2015)
Recipient of Pomona College Summer Experience Funding Award
"My primary project as a summer intern was updating the greenhouse gas emissions inventory used to gauge Alameda County's progress towards climate action targets. I collected, calculated, reported, and analyzed emissions data. The results were shared with multiple audiences, including executive leaders, over the summer. The project exposed me to actions the County has taken to mitigate its environmental impact and gave me a unique perspective on the many positive changes the Sustainability Program has spearheaded. I am confident the analytical skills I gained will prove useful in my future professional pursuits.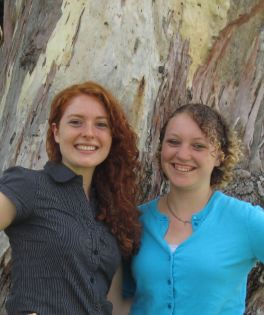 Summer 2015 interns Laura Edwards (left)
and Kayla Oakley (right)
My supervisor was incredibly supportive, and I was integrated with the full sustainability team from the start. I had the opportunity to attend weekly team meetings as well as participate in multiple professional development trainings and seminars such as a workshop on community based social marketing. Overall, my experience was productive, informative, and rewarding."
Kayla Oakley, Harvard College (Summer 2015)
Recipient of Edward M. Lamont Public Service Fellowship Grant through the Harvard Center for Public Interest Careers
"It was a valuable educational experience to spend ten weeks at Alameda County designing an employee outreach and engagement campaign. As a core team member who was part of the process from the beginning, I saw how stakeholder engagement, focused meetings, and ongoing feedback are integral for a campaign's success. This is a lesson I'll apply to my leadership roles on campus.
My supervisors supported my goals to contribute on both quantitative and qualitative projects crucial to the campaign, including interviewing stakeholders, calculating the environmental impacts of events, making infographics, and developing the budget. These projects further developed my research, visual design, and Excel skills. I particularly appreciated receiving regular feedback to help me refine and improve my products.
The Sustainability Program team was very supportive of my professional development. They provided me with feedback about my strengths and areas for growth; invited me to attend meetings with partners and vendors to better my understanding of the business environment; and involved me in special projects so I could get hands-on experiences in policy development and innovation in government."
Adam Banasiak, Harvard Kennedy School of Government (Summer 2013)
Recipient of funding from the Dubin Program for Emerging Leaders at the Harvard Kennedy School Center for Public Leadership and the Harvard Kennedy School Mossavar-Rahmani Center for Business & Government
"As a public policy student, I appreciated the opportunity this summer to see how local governments can use innovative approaches to improve citizen service and protect the environment while dealing with ever-tighter budgets. It was an exciting time to get involved in developing strategy for how to best continue the implementation of the Climate Action Plan for Government Services and Operations, because a first round of team projects was just wrapping up. My work assisted the Climate Executive Committee to comprehensively assess the progress to date and then build on the lessons learned from the first round.
The GSA Sustainability team made sure I was welcomed and brought into high-level decision making meetings from the very first week. They took advantage of my fresh perspective to identify new opportunities. In addition to weekly progress check-ins with my direct supervisor, other team members offered their time to review my proposals. From the beginning it was clear that they not only wanted to make the most of my time, but also wanted me to have the opportunity to tailor projects to my career goals."
Jelena C., Harvard College (Summer 2013)
Recipient of Harvard Kennedy School of Government Belfer Center's Roy Family Summer Environmental Internship Grant and Harvard Institute of Politics Summer Stipend
"My ten-week internship with the Alameda County Sustainability Program was an amazing experience. I worked on several different projects, including updating the sustainability brochure - used to share the County's sustainability accomplishments around the world - and creating a sustainability portal for the County's intranet so that employees can easily find the information they need to make sustainable choices. All of my projects were both engaging and informative: I was able to learn about the County's sustainability resources and projects and obtain a better understanding of how to create change for the betterment of the environment and the community.
The work I did for the County exposed me to many things I have never done before such as web design and copywriting. I was able to work closely with my mentor and the rest of the incredibly knowledgeable sustainability team, which allowed me to get constructive feedback on my work at every critical phase. I feel confident that I am walking away from this internship with improved skills, knowledge, and passion for sustainability."
Kate Yzurdiaga, Pomona College (Summer 2013)
Recipient of Pomona College Summer Internship Funding Award
"Interning with the Alameda County Sustainability Program for ten weeks was an incredible opportunity. My major project was integrating an environmentally preferable purchasing standard into carpet procurement. This is an important issue because carpet's lifecycle is associated with greenhouse gas emissions and indoor air quality issues, both of which can be mitigated through greener purchasing. I was able to see this project through from start to finish - leading research, policy formulation, and integration of the new specification into standard procedures. Knowing that I would be sharing the results with project stakeholders at each phase raised my game and improved my research, writing, and presentation skills.
Everyone on the team was supportive and welcoming. My supervisor offered excellent guidance from the get-go to make my experience as productive as possible. I was encouraged to take advantage of professional development opportunities like participating in regional meetings, which served to increase my knowledge of local government structure and how County initiatives evolve. Overall, my summer offered what I would call a 'complete' internship experience and has given me more confidence in marketing myself to future employers."
Alexa Ing Stern, Harvard College (Summer 2011)
Recipient of Harvard Summer Public Service Grant from the Steiner Community Service Fellowships Fund
"My experience working as a Summer Sustainability Intern at Alameda County was exceptional! I looked forward to coming to work every day, thanks to the Sustainability team, who were all incredibly welcoming and willing to mentor me.
One of my favorite aspects of the internship was the opportunity to work on projects in a variety of subject areas, from employee outreach to web design to environmentally preferable purchasing. This helped me see what type of work I found most engaging, as well as what plays to my strengths. The projects I worked on not only further developed my writing and research skills but also gave me valuable experience facilitating meetings.
I particularly appreciated that the internship was designed to allow me to see several of my projects through from start to finish, including making the ' Great Race' video to promote transit and biking and developing an orientation presentation and intranet mini-site to help new County employees access sustainability resources."
Extern
Emma C., Harvard College (January 2011)
"Never having been exposed to local government, I was uncertain what an opportunity to work at Alameda County's Sustainability Program office this January term would bring, but was excited to build on my experiences with local Boston governments and mayors in the Harvard Working Group for Sustainable Cities and learn more about how environmental policies are created and implemented. By the end of my time volunteering, I had gained a better understanding of what these governments face as they try to create change in a community and in an organization.
My work at the County ranged from tracking the cost of waste and recycling services at County facilities to helping to create a sustainability section for the County's new employee orientation to preparing materials for a Climate Executive Committee meeting. One of my favorite projects during the January externship was doing research to support the development of an Environmentally Preferable Purchasing Policy for the County government. I gained a new understanding of the financial benefits of responsible purchasing through researching the upfront costs and long-term savings of other cities' and counties' 'green' purchasing initiatives.
The effort of all members of the Sustainability Program to incorporate me into the team - from taking time to discuss their careers to allowing me to sit in on important meetings to having me work directly on projects - made the experience exceptionally educational."