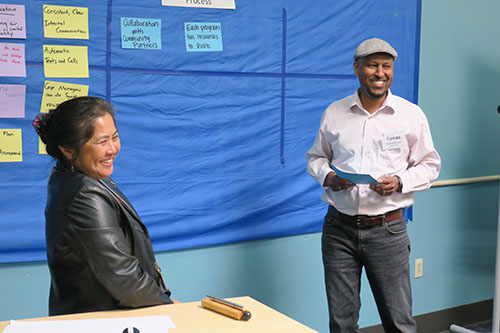 Climate Adaptation
Counties must prepare for the effects of global climate change on our residents and services, as we are on the front lines of response to fires, floods, public health issues, and impacts on vulnerable communities. Many Alameda County agencies are already taking action to prepare for climate impacts like extreme heat and poor air quality.
To view our full Climate Resilience resources, visit here!
Staff Workshops
Several agencies, including the Planning Department (Community Development Agency) and Public Health (Health Care Services Agency), have held staff workshops on specific climate impacts affecting their programs. This approach has allowed them to engage staff to ensure that proposed responses are feasible and actionable.
Resources for Local Government Adaptation Champions
The Alameda County Office of Sustainability has developed a guide for other local governments who would like to try this model: Climate Change Adaptation Workshops: A Planning Guide for Local Government Staff. (PDF) *
Sample workshop materials are also provided as resources for others planning a workshop.
What does the guide offer?
Support for local government staff to become resilience champions within their divisions
A step-by-step process to plan and recruit support for an action-oriented half-day workshop
A framework for teams to focus on and learn about a climate impact that directly affects their work or clients
A structure to develop next steps that are feasible and fit with other team goals
Real-life examples and sample presentations, agendas, and breakout group activities
Sample Workshop Materials
Help us improve the guide!
Add your comments and questions to the guide through this interactive version. (You'll need to create a free login.)
Or share your feedback through a survey.
Guidebook

Agendas

Presentations

Breakout Group Worksheets

Materials Checklist

Evaluation