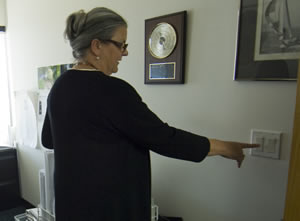 Energy efficiency actions, including simple actions like turning out the lights, are a priority in the County's Climate Action Plan.
Climate Action Plans
Alameda County recognizes the need to take action now to protect our climate in order to protect quality of life in our communities. Alameda County's Board of Supervisors directed County staff to develop a comprehensive climate protection strategy. The resulting Climate Action Plans provide blueprints for meeting our greenhouse gas (GHG) reduction goals. The specific policies, programs, and actions the County will pursue are outlined in the Alameda County (Unincorporated Areas) Climate Action Plan and the Alameda County Climate Action Plan for Government Services and Operations.
Unincorporated Community Climate Action Plan
The Alameda County (Unincorporated Areas) Community Climate Action Plan addresses reduction of greenhouse gas emissions through a series of 37 local programs and policy measures related to transportation, land use, building energy, water, waste, and green infrastructure. The Plan, if diligently implemented, would enable the County to reduce its community-wide emissions by more than 15% by the year 2020. The Plan was approved by the Board of Supervisors on February 4, 2014.
As of 2023, an updated community climate plan is under development.
Government Services and Operations Plan Through 2020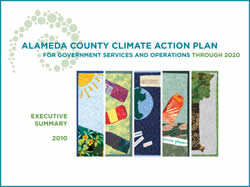 Download the Executive Summary (PDF - 3570kb) *
Download the Climate Action Plan (PDF - 5500kb) *
The Alameda County Climate Action Plan for Government Services and Operations was adopted by the Board of Supervisors on May 4, 2010. The Board adopted 16 Commitments to Climate Protection that provide overarching vision, a goal of 15% GHG reductions by 2020, and the Climate Action Plan, which includes 80 recommended actions that will enable us to reach our goals.
Our Climate Action Plan:
Creates a structure for the County to lead by example by taking actions to reduce our own emissions.
Identifies and prioritizes actions to reduce GHG emissions from multiple action areas, such as building energy use, transportation and employee commutes, and waste disposal.
Recommends that the County promote energy efficiency in our facilities and vehicle fleet, use clean alternative energy sources, reduce waste, make environmentally preferable purchases, and develop forward-thinking land use and transportation planning.
Estimates each action's effect on GHG emissions, upfront costs, long-term savings, impacts on service delivery, public health, and other key factors.
Builds on the County's greenhouse gas emissions inventories, which established baseline greenhouse gas emissions levels.
Contains performance targets that will be tracked and reported on.
Why Is It Important for Your Local Government to Adopt a Climate Action Plan?
Local governments are on the front lines of the fight to stop climate change. We provide public health, safety and many other services to protect our environment and quality of life. We also influence regional decisions on land use, development, and transportation.
Many of these actions provide multiple benefits, including:

Creating jobs
Saving money
Improving air and water quality
Improving public health
Enhancing quality of life
Supporting economic development
Documents