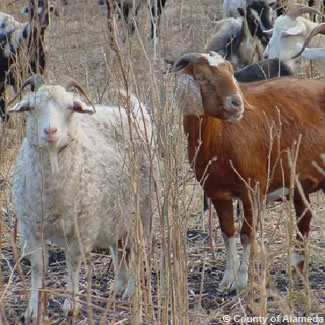 Goats control weeds at many County properties, reducing the need for herbicides.
Toxics Reduction
To protect the health of residents and employees as well as the environment, Alameda County is committed to reducing the use of toxics, such as pesticides and cleaners. The Board of Supervisors has provided leadership in toxics reduction by passing a Persistent Bioaccumulative Toxics Resolution and an Integrated Pest Management Policy. Actions to reduce toxics include:
Specifying low-mercury lighting and building components
Implementing integrated pest management, such as goats for weed control
Using green janitorial cleaners
Documents
* Portable Document Format (PDF) file requires the free Adobe Reader.
** Microsoft Word (DOCX) file requires the free Microsoft Word Viewer.