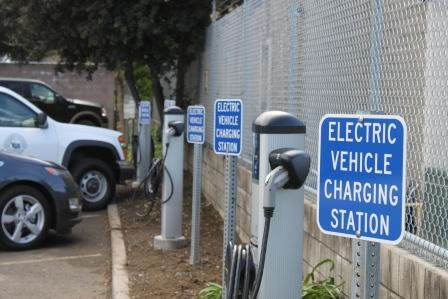 Employees and visitors take advantage of EV charging stations in Hayward.
Electric Vehicle Charging
The County is part of an effort to create a network of charging stations in the Bay Area open to the public. As a DOE Workplace Charging Partner, Alameda County added EV charging options at our major parking lots and garages.
Charging Station Locations
EV drivers can charge their vehicles at County-owned parking garages and lots in Alameda, Hayward, Oakland, and San Leandro. The County's charging stations are open to the public during regular business hours.
Dual Level 1 & Level II charging stations are located at:
Environmental Health Building, 1131 Harbor Bay Parkway, Alameda
Amador Parking Garage (first floor), 24360 Amador Street, Hayward
Public Works Building, 224 West Winton Avenue, Hayward
AlcoPark Garage (floors 2 & 8), 165 13th Street, Oakland
Oakland Parking Facility (basement level), 585 Seventh Street, Oakland
Juvenile Justice Center, 2200 Fairmont Drive, San Leandro
Find these and other nearby stations at the U.S. Department of Energy Alternative Fueling Station Locator or Plugshare.
A Direct Current (DC) fast charger is located at:
AlcoPark Garage in Oakland (since July 2017)
Charging Station Pricing
To maintain existing charging stations as well as further expand charging stations and support the growth of electric vehicles, Alameda County began charging a fee on February 17, 2015.
Level 1 or 2 Chargers
The price to charge at these County-owned EV charging stations includes two components, a base fee and an energy fee.
| Base Fee | Plus an Energy Fee |
| --- | --- |
| $1 for Level 1 or 2 charger | $0.20/kWh delivered to the vehicle |
DC Fast Charger (165 13th St., Oakland)
Beginning April 17, 2020, our DC Fast Charger has no base fee and is priced based on the time of day. When energy is cheaper and cleaner, we pass those savings on to the public.
| Time | Energy Fee |
| --- | --- |
| 12 am - 6 pm M-F | $0.25/kWh delivered to the vehicle |
| 6 - 9:30 pm M-F | $0.20/kWh delivered to the vehicle |
| 9:30 pm - 12 am M-F, all day weekends | $0.15/kWh delivered to the vehicle |