Step by Step Plan for Behavior Change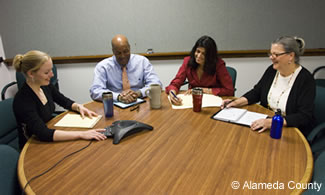 We are sharing our templates so that you can implement a similar campaign in your organization.
It takes time to plan, design and implement an effective behavior change campaign. That's why we are sharing our process and templates with you, so you can adapt our work to meet your organization's needs.
These are the steps Alameda County General Services Agency took to pilot an office paper waste reduction campaign for County employees. However, the steps described here can be adapted to implement other behavior change campaigns specific to your organization.
Step 1: Inventory and Baseline Paper Use
In order to measure success and target specific actions, it is important to understand how much paper you currently use and the types of equipment employees are using.
Gather baseline paper use data from purchasing records, your office paper vendor, or by tracking page counts on your printing equipment. Alameda County agencies can contact the GSA Sustainability program for assistance getting paper use data.
Establish a process for tracking use throughout your project timeline and make sure key partners are aware of their responsibilities.
Identify the type of equipment and what features are available to employees. For instance, does the equipment have a duplex function?
Step 2: Ensure Employees Have the Access and Knowledge They Need to Implement Changes
Before asking employees to change, make sure you've addressed the technical barriers that may stand in their way. Collaborating closely with your information technology department will help assure employees that the changes implemented are appropriate. Although it takes time to visit each employee to make the infrastructure changes, it pays off greatly when you begin promoting your campaign.
Let your employees know that technology staff will be visiting each employee to give them access to advanced printing technology.
Have technology staff visit each employee to:

Set default printer selection to multi-function device (MFD) equipment; or if not available, to another network printer which prints double-sided.
Set default printer settings to double-sided and show them how to print single-sided when needed.

During set up, technology staff should provide one-on-one instructions for using each of these paper saving functions, but you can also distribute a small reminder card for employees to post at their desk that provides tips and contact information if they have questions.
For MFD equipment with scanning capabilities, have technology staff set up scan-to-email for each employee.
Documents
Step 3: Launch the Campaign
Now that employees have access to the advanced technology, you're ready to ask them to change their behavior. Make sure employees know that management is behind the effort, and ask green champions to promote the program to their colleagues.
Ask your executives to distribute an email to all employees outlining the expected behaviors and benefits to the organization.
Host a voluntary launch event to inform employees of the desired behaviors and benefits, and to generate excitement for the effort.
Ask the environmental champions in your organization (like Green Team members) to promote the project and mentor colleagues to help them adapt to changes.
Documents
Step 4: Provide Training and Point of Use Reminders
New habits can be hard to learn, so provide employees with detailed trainings on how to use the specific equipment functions, such as double-sided printing and copying, scan-to-email, and secure printing. Then post reminders at the point of use so employees don't forget.
Schedule at least two equipment-specific voluntary trainings for employees. You may need more if there are several types of equipment in your organization.
One week before the training, send out an email and post a flyer near the copy machines to announce training opportunities. Send a reminder the day before the training.
At the training, walk through how to use the paper saving functions available to employees on the MFDs. Have technology staff on hand to answer technical equipment questions.
At each MFD, post an instruction sheet to serve as a reminder for how to use the functions covered in the training.
Documents
Step 5: Make It the New Normal
Now that you've addressed technical barriers and provided training, these final steps will help you make sure employees know this is a long term priority and will help the changes stick in your organization.
Track paper use using the processes established in Step 1 so that you can measure the positive financial and environmental impact. Use the online paper calculator to measure the environmental benefits including trees saved.
Share the results with employees to acknowledge and congratulate them for their efforts, and reinforce that your organization continues to expect these actions.


** Where indicated, documents are also available in Microsoft Publisher (PUB). If you do not have Publisher installed, you can download a free trial version, which will still be good for viewing Publisher files after the trial expires. It is recommended that you first download the file: Right-click the desired link. Select "Save target as..." or "Save link as..." from the menu.

*** Where indicated, documents are also available in Microsoft Word (WORD). If you do not have WORD installed, you can download the free Word Mobile app to facilitate document viewing.