Pest Detection
European Pine Shoot Moth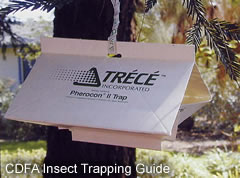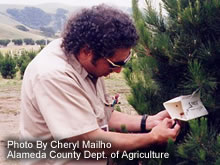 Common Name: European Pine Shoot Moth
Scientific Name: Rhyacionia buoliana (Dennis & Schiffermuller)
Pest Rating: "A"
DESCRIPTION
When fully grown these moths are about half an inch long. The adult is a small, buff- colored moth with whitish legs and a wingspan of 18 - 24 mm. The forewings are orange to rust in color and marked with numerous irregular silvery patterns. The hind wings are plain dark brown. The wings form a roof-like cover over the abdomen when the moth is at rest. The antennae are dark colored and more than half the body length. Larva are a reddish brown color with a black head and neck, ranging from 12 - 20 mm. in length.
HISTORY AND ECONOMIC IMPORTANCE
European pine shoot moths were first found in the United States in New York in 1914. It has spread through the pine growing areas of central and eastern United States. Nurseries and Christmas tree lots or farms are at high risk. Infested trees often become malformed making them unfit for ornamental use. Distortion ruins the tree for aesthetic or economic value. Heavy infestations result in rounded trees with very stunted growth, making them a threat to the timber industry. Heavily infested trees may die as a result of this pest.
The Pherocon II trap is used for detecting the presence of European Pine Shoot Moth. This tent-like cardboard trap is coated with stickum on all inside surfaces. A rubber cap impregnated with a pheromone (sex lure) attracts male moths onto the sticky surface.
DISTRIBUTION
European in origin, this insect pest is widely distributed through areas of the northeast and central United States and in the Pacific Northwest in Oregon and Washington. In Canada it is found in British Columbia, Ontario, Quebec, Prince Edward Island, Newfoundland and New Brunswick.
ALAMEDA COUNTY PEST DETECTION
In Alameda County, sites of introductory risk are monitored with traps for the presence of European Pine Shoot Moth. These trap sites are nurseries where living trees may be introduced from infested areas of the United States. The traps are hung in pine trees or from metal poles where pine trees are awaiting sale.
HOSTS AND DAMAMGE
Hardwood pine trees are the favored host for this pest. They prefer younger trees under 20 feet tall. Many species of pines are attacked including Scotch pine, Red pine, Austrian pine, Mugho pine, Lodgepole pine, Ponderosa pine, and White pine.
The adults and larva of this pest are usually not seen but their damage, wilting or dead shoots, is very noticeable. Young larva kill small buds which are soon noticed when they do not expand in the spring. The damage results from larva tunneling in buds and expanding shoots. If all the leader buds are attacked, a lateral curls around to take its place, forming a permanent crook or "post horn." Larva may move from one shoot to another, entering at the base of the needle. Entrance holes are covered with silk webbing coated with pine pitch.
YOU CAN HELP
Working together we can keep these pests from becoming established in Alameda County. You can help by allowing Agriculture employees access to your property to install and monitor insect survey traps. To learn more, select the link below:

Pest Detection Survey