KEEP UP TO DATE WITH THE COUNTY HOUSING ELEMENT
Stay in touch. Sign up to receive important updates about the Housing Element process.
To view PDFs, download Adobe Reader.


The Alameda County Community Development Agency plans for the Unincorporated Areas of the County, outside of the cities. The County's Housing Element mainly focuses on the urban West County unincorporated communities of Ashland, Castro Valley, Cherryland, Fairview, Hayward Acres, and San Lorenzo.
Unincorporated Alameda County includes a diverse array of existing housing and future housing need! Over the next 1.5 years, Alameda County CDA looks forward to engaging and working with the communities affected by this plan.
A Housing Element is how local jurisdictions plan to meet the housing needs of everyone in the community. At its core, a Housing Element is an opportunity to have a community conversation about how to address local housing challenges and find solutions.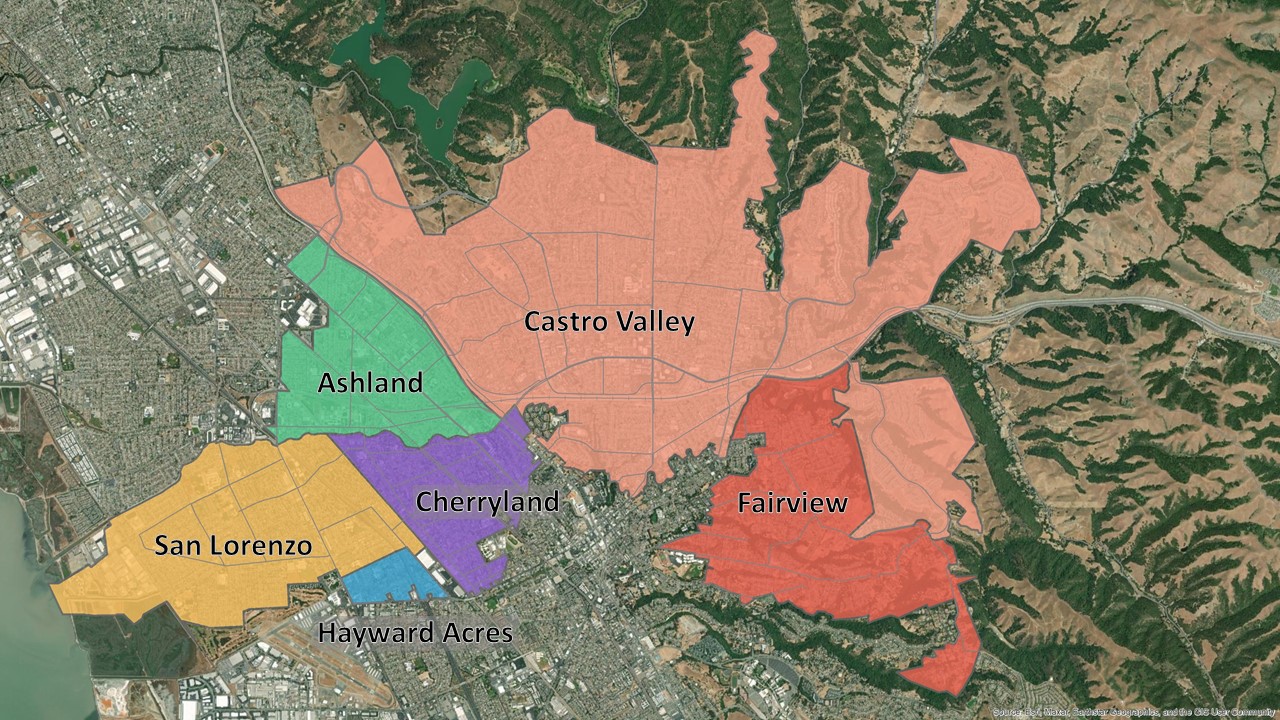 The state of California requires every jurisdiction to make a new Housing Element every 8 years. The current Housing Element, for years 2015 to 2022, can be accessed here.
Housing Element 2023-2031 Timeline
The Housing Element Process began in June 2022 and is expected to be completed by the beginning of 2024. Below is a more detailed timeline of the process.
After Board of Supervisors approval and HCD certification
Celebrate adoption of the Housing Element and begin implementation.
Fall/Winter 2023
Depending on outcome of HCD review:
CDA staff and consultant team will finalize Housing Element. Planning Commission & Board of Supervisors will hold public hearings for adoption.
OR
CDA staff and consultant team will revise the first draft of the Housing Element to address HCD's comments as needed; give public notice of second comment period on Housing Element; and submit second Housing Element draft to HCD for review.
Note: HCD has 60 days to review the second draft of the Housing Element. A subsequent review period may be needed depending on outcome of review of second draft.
October 2023
Submit Draft Housing Element to California Department of Housing and Community Development (HCD).
Note: HCD has 90 days to review the first draft of the Housing Element.
August and
September 2023
Meetings on Public Review of Draft Housing Element
August 3, 2023
Release of Public Review Draft of the Housing Element
Spring and Summer 2023
Staff and consultants work to write Housing Element.
Winter 2022/2023
Update Presentations to MACs, Planning Commission, Unincorporated Services Committee, Agricultural Advisory Committee, Board of Supervisors (See Engagement Tab)
Fall 2022
Outreach and engagement opportunities begin.
Late Summer 2022
Project overview presented to Board Unincorporated Services Committee, Castro Valley Municipal Advisory Council (MAC), Eden Area MAC, Fairview MAC, Sunol Citizen's Advisory Committee, Planning Commission, & Agricultural Advisory Committee
Beginning Summer 2022
CDA staff and consulting team begin work:
Technical Studies
Sites Inventory
Affirmatively Furthering Fair Housing (AFFH) Analysis (described in more detail in the 'What is a Housing Element' tab)
June 2022
Project Kickoff!
Contact us: Please reach out with questions, comments, ideas, and concerns to housingelement@acgov.org
Póngase en contacto con nosotros: Por favor, envíe sus preguntas, comentarios, ideas e inquietudes a housingelement@acgov.org